Ronald J Williams has always had 3 major passions: sports, movies and travel.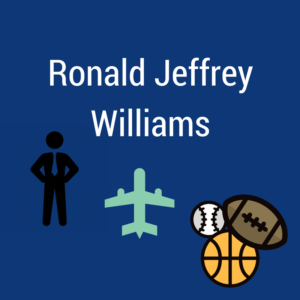 Ronald has always enjoyed sports, it didn't matter if he was playing them or watching them, sports has always been at the center of his life.  As a young boy growing up in South Dakota, you could always find Ronald playing a serious game of football or basketball with his neighborhood friends.  They would race except on Sunday, because Sunday was game day and everyone knew that Ronald was at home watching his favorite team, the Minnesota Vikings, playing football.
Ronald J Williams also loves movies.  He likes all movies and but especially 80's movies.  Some of his favorites are The Breakfast Club, Ferris Bueller's Day Off, Sixteen Candles and more.  He also enjoys tv series like the Game of Thrones, Breaking Bad, and House of Cards.
Today, Ronald J Williams still loves sports and movies, but he has added travel to his list of hobbies. He likes to travel any chance he gets and loves to see new faces and places. Some of his favorite places to visit have been and Boston, Massachusetts, Maine and Virginia and where he also made a trip to Washington D.C.
Take a look inside his pages and you will find lots of great information from Ronald J Williams on sports, what movies to watch and great domestic travel.